Tired of the lazy all-inclusive beach holiday or rigidly following the city guide on your sightseeing trip? There are plenty of exciting activities that both let you explore your destination, enjoy the weather and get some exercise at the same time (without being too exhausting – you're on vacation, after all). On our recent trip to the region of Liguria and the Cinque Terre in Italy, we had a rather sportive couple of days, trying all kinds of different activities while exploring the place, not least thanks to the priceless suggestions of  our Airbnb hosts. So from that experience, here are 7 tips for an active holiday at the Italian Riviera.
#1: Chose a good base. A great place to stay to explore the area around the Cinque Terre is in the hills of La Spezia. Even though it's rather close to the coastal towns, it's far away from the touristic hustle and bustle, quiet and harmonious, and close to plenty of hiking trails. It's particularly recommendable if you're traveling by car. If you're not, be aware that there aren't many buses going in that direction after about 8 pm. Thus, if you're not traveling by car, it might be a good idea to either chose an accommodation with kitchen or check for restaurants in the area, and/or budget for cab fare.
#2: Chose time of travel wisely. Depending on the level of activity that you're looking to pursue, taking the temperature into account is a good idea when planning your trip. If you want to hike run or bike in the hills, the heat might be challenging in July and August, at least during the day. Also, the Cinque Terre are extremely popular among tourists, so if you want to see the five famous towns, traveling outside of peak season could be a good idea. In May, early June or September, for instance, it's still (or already) warm, but not too hot. And whilst there'll still be a lot of tourists, it will most likely be significantly less than in the summer holiday months of July and August. Personally I think, that the landscape in the hills must be breathtaking in October, too, when the leaves are changing.
#3: Use the hiking trails. If you're in the region to see the Cinque Terre, there are 14 kilometers of walking trails connecting Riomaggiore, Manarola, Corniglia, Vernazza and Monterosso al Mare with each other. But since parts of the trail have been damaged due to floods, it is at this time (September 2016), not possible to access the entire trail. Plus, you have to pay to walk them. There are plenty of free hiking trails, however, that lead from the hills down to the towns. Contrary to the coastal trails, these ones are quite remote. You're likely to meet very few people on the way and the sight of the colorful towns from above is simply priceless. Oh, and it's great exercise.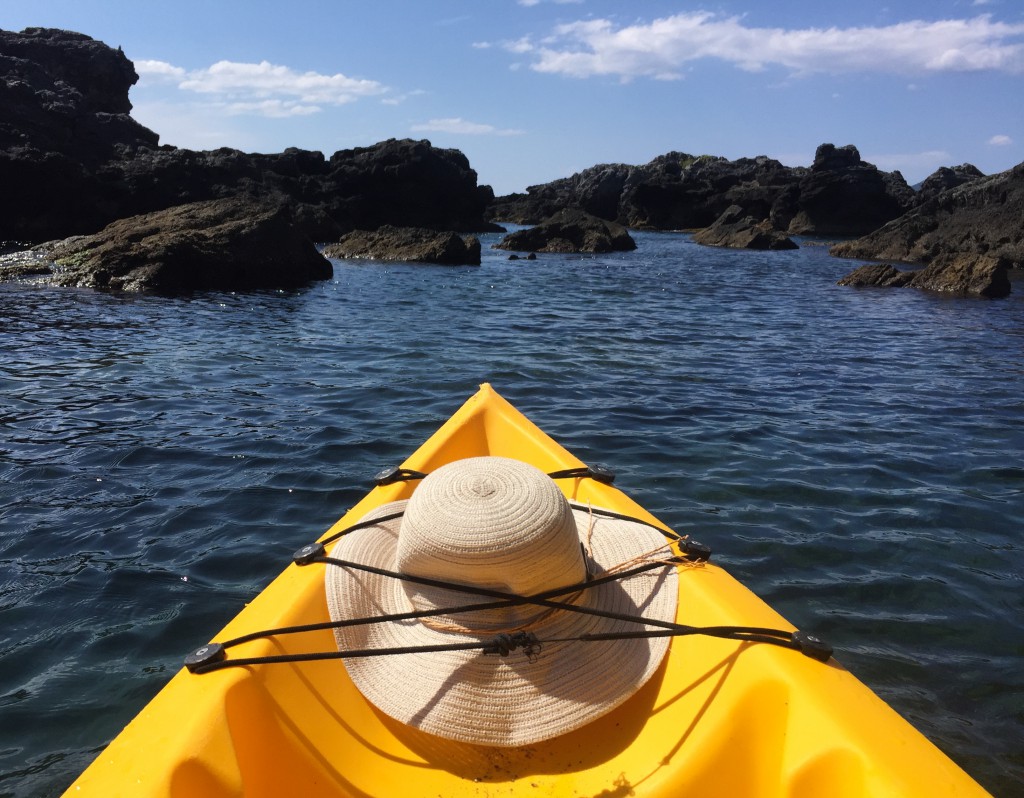 #4: Rent bikes for trips up and down the coast. Whilst this might not be suitable for trips between and inside the five towns, due to too many people and limited accessibility, renting a bike is a great way to explore the less visited but equally beautiful places up and down the coast from the Cinque Terre. A great idea is to rent bikes in Levanto (about 10€ a day) and drive along the bikelane through the old railroad tunnels to Framura, where you can take a swim on a lovely beach. We were told by our hosts to stop in Bonassola for the famous regional cheese focaccia on our way back… don't miss out on that!
#5: Rent a canoe. This is a must! Instead of using the tourist boats that sail between La Spezia and Porto Venere* to see the beautiful coastal towns from the water, rent a canoe and sail up and down the coast from there, exploring grottos and coves. You can rent both doubles and singles in Fiascherino, for instance (12 €/hour for a double). And while you're at it…
*make sure to see Porto Venere, it's particularly beautiful on summer evenings.
#6: Go snorkelling. The deep water and rocky landscape make a good home for plenty of fish. It's worth it to carry a mask and a snorkel in your backpack while exploring for whenever you decide to go for a spontaneous swim at one of the many beaches in the region.
#7: Alternative activities: You want more? Alternatively you can also go stand up paddling, biking in the hills or cliff climbing in the area. Oh, and eat focaccia and gelato! That's a sport, too, right?
The Cinque Terre consist of the five picturesque coast villages Riomaggiore, Manarola, Corniglia, Vernazza and Monterosso al Mare at the Italian Riviera in Liguria. Cinque Terre and Porto Venere are part of the Cinque Terre National Park, which is a UNESCO World Heritage Site.
Now you: What's your best tip for an action packed and adventurous holiday? Tell us in the comments below!
Happy Travels