It takes a while to get to know a place and to find all those favorite spots, that you just keep coming back to. Obviously, when you're visiting a place for the first time and for just a few days, you do not have those favorites worked out yet. Most likely, you'll  spend too much money at a mediocre restaurant, because you're hungry and it's close by. After having lived in Aarhus for over a year, I simply cannot let that happen here. So whether you're stopping by for a short city trip or you're living here but just haven't found your food places yet, here's an (incomplete) list of my personal favorite lunch places in Copenhagen's charming little sister.
Café Fika
I absolutely love this place. It's light, cozy and perfect for everyone on a special diet. There are loads of gluten- and dairy free options and they are all really delicious. Aside from a rich salad bar, there's super tasty filled corn pancakes and sandwiches with home made bread – both with and without gluten. Everything is clearly marked as to whether it contains dairy, gluten and meat, which makes it a really nice and easy lunch for all those who usually struggle to find healthy options. It actually works as a take-away place, but if you can, try to get one of the few tables in there or sit on the benches outside, as it's really cozy and the location is great for further city exploration. Heads-up: there's no bathroom for customers. However, if you ask nicely, they usually let you use the staff's bathroom. Location: Jægergårdsgade 47, cafefika.dk.
FFood
This is a great place to get some yummy, healthy food to go. There are a few seats by the window, but I would recommend to get one of their salads (I love the one with salmon and pine nuts) or sandwiches and eat it outside in the sun. Either on a bench in the city center, on the stairs by the harbour or, if you're by car, on one of Aarhus' beautiful beaches. The food is prepared in front of you with fresh and healthy ingredients, and it doesn't break the bank (unusual for Denmark, I know). Location: Vesterbro Torv 8, ffood.dk.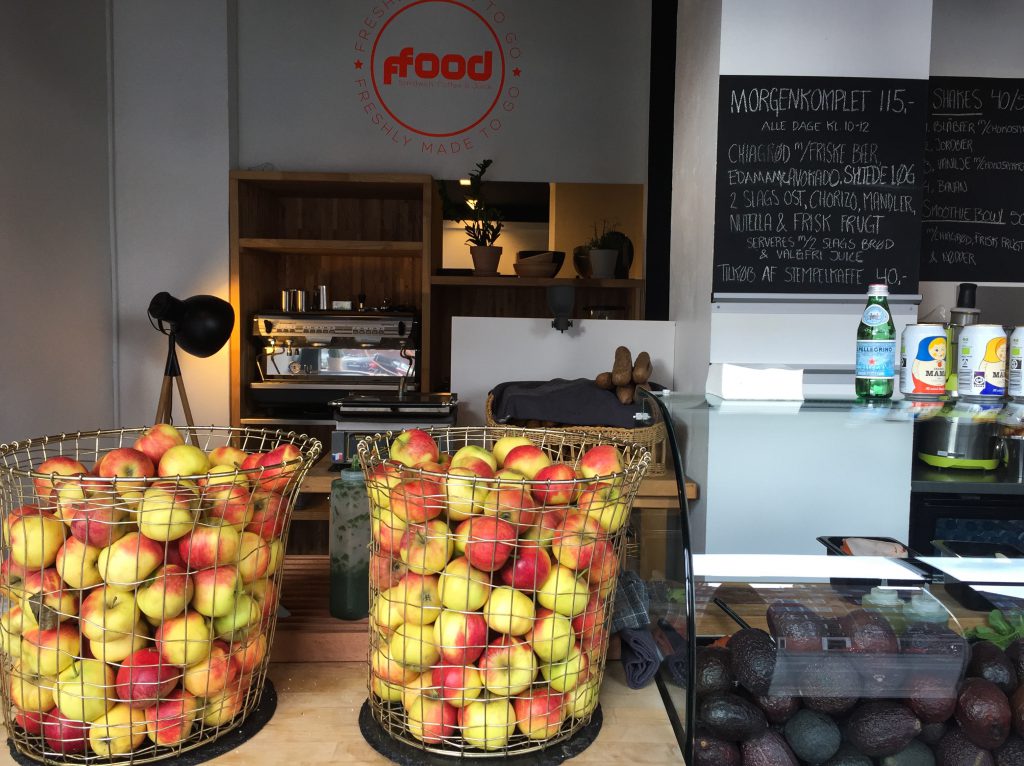 Langhoff & Juul
This place is great both for lunch and brunch. There's a really nice atmosphere in here and the interior is super stylish with rustic wood tables and menus bound in leather covers. The place is full of funny, inspiring and motivating quotes, that are written in chalk on the blackboard-like bar and on the walls in the bathroom. Whether you're having a birthday brunch or lunch with friends, Langhoff & Juul is the kind of place you hang out in for a while. Location: Guldsmedgade 30, langhoffogjuul.dk.
Café Stiften
If you're with your family or a group of friends and you can't really agree on what kind of food you want, this is a good place to go. Between burgers, bagels, spaghetti and veggie smoothies there is something for everybody at Café Stiften. Personally, I am crazy about their salads. You put them together individually and there's plenty of options. You simply get a list of all the possible ingredients – from types of salad to toppings and dressings – and mark the ones that you'd like in yours (I highly recommend the chickpea dressing and sun-dried tomatoes). Location: Bandegårdspladsen 11, cafestiften.com.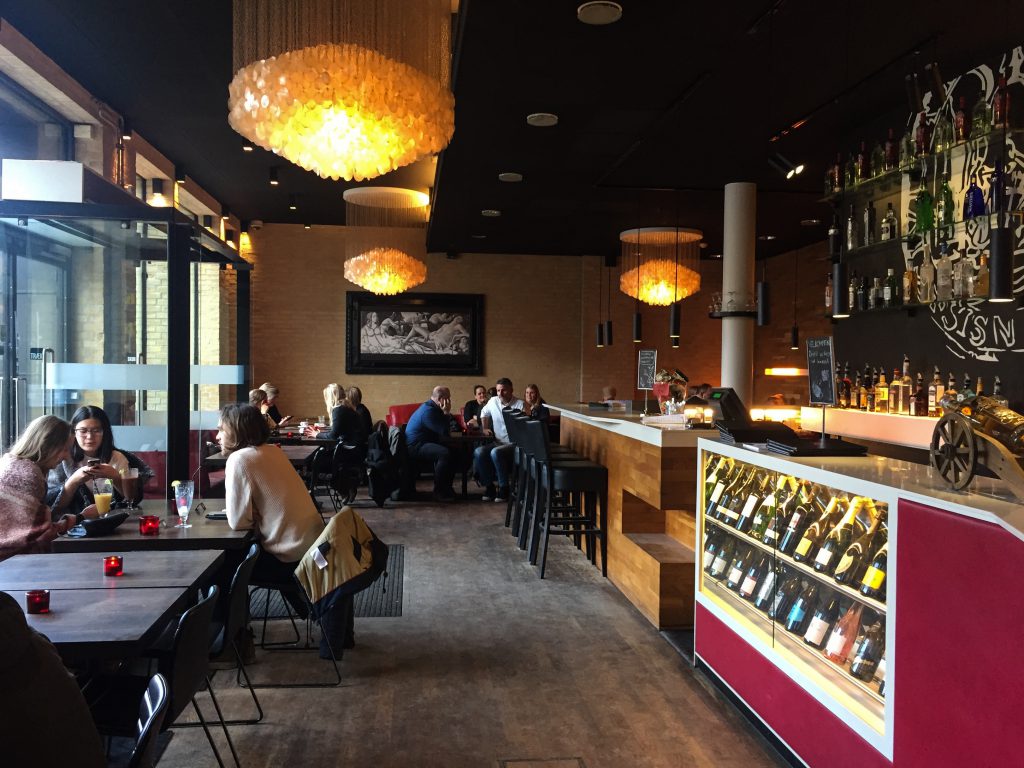 Aarhus Central Food Market
Aarhus Central Food Market is a permanent street market with plenty of booths selling particular products and really good food right next to the main shopping street. You'll find everything from various Asian food to Danish smørrebrød (open rye bread sandwich with all sorts of delicious toppings) to Italian pasta carbonara and a variety of healthy wraps. Whether you're just looking for a quick snack or a hearty lunch, the food market is worth a visit. Location: Skt. Knuds Torv 7-9, aarhuscentralfoodmarket.dk.
Café Grene
Take the escalator up to the first floor inside the popular Søstrene Grene store, and you'll get to this nice ecological café, overlooking Aarhus' main shopping street. The interior is somewhere between comfy and stylish and the food is light and tasty, ranging from quinoa- and pasta salads to panini and really yummy cakes. Nice touch: the menu is written in chalk on the walls. Location: Søndergade 11, facebook.com/cafegrene.
Rodfast
Very charming tiny café, specialising in two things: toast & coffee. If you're looking for a quick lunch (or breakfast) in a relaxed atmosphere, this is the place to go. You get a tasty toast with homemade bread and various toppings, plus a coffee and a drink for 80kr. – very fair for Danish standards. There's just a couple of tables and benches, perfect for two or three people, and the staff is super friendly. Location: M.P. Bruunsgade 46, facebook.com/restaurantrodfast.
Now you:

 where's your favorite lunch place in Aarhus - or the world for that matter? Share it with us in the comments below, so we can all go!